http://www.progressivestates.org/dispatch [1]
Thursday, May 10, 2007
U.S. Infrastructure: An Economic Disaster Waiting to Happen
In Today's Dispatch:
Growing Economy

Increasing Democracy

Research Roundup

Regular Features

Get Involved
U.S. Infrastructure: An Economic Disaster Waiting to Happen
A major new report [8] released this week by the Urban Land Institute and Ernst & Young revealed shocking statistics on the state of transit infrastructure in the U.S., including:
83 percent of the nation's transportation infrasturcture is not capable of meeting the nation's needs over the next 10 years.
97 percent of roads, bridges and tunnels, and 88 percent of transit/rail systems will require at least moderate improvement.
Chicago alone needs $6 billion to bring its subways into good repair. Rehabilitation of the Tappan Zee Bridge north of New York City will cost as much as $14.5 billion.
There is a $1.6 trillion deficit in needed infrastructure spending through 2010 for repairs and maintanence.
A Threat to Economic Growth: Beyond the inconvenience of longer commute times due to poor upkeep of roads and transit systems, these numbers signal real economic trouble. The loss in time and productivity will slow economic growth, drive job losses, and result in the U.S. becoming less economically competitive globally.
Around the world, our economic competitors are investing heavily in infrastructure to strengthen their economies, yet the U.S is spending less than 1 percent of its GDP on infrastructure. Contrast that with India, which spends 3.5 percent on infrastructure, or China, which spends 9 percent of its gross domestic product on infrastructure in its quest for economic growth.
The U.S. infrastructure neglect is not limited just to transit. In order to comply with safe drinking water regulations, the U.S. must spend ten times its current budget for replacing aging systems. The power grids are also a mess and poor transmission networks are resulting in loss of electricity and extremely inefficient power delivery.
The False Promise of Privatization: The report emphasizes that the recent hype around privatization of public assets like roads won't solve the problem-- and could make it worse. Another new report released this week [9], also highlights how states have been wasting taxpayer money by outsourcing and experimenting with other forms of privatization that have just added to costs.
Looking Forward: There is simply no way around it- the current level of infrastructure investment cannot sustain current economic activity, let alone allow our states to grow competitively in the global economy. Any further delay investing in infrastructure will only result in much greater physical repair costs and even greater costs from job losses.
The first step is facing up to the need for new revenue. The reality is that the gas tax, when adjusted to inflation, is half of what it was in the 1960s. Road tolls aren't paying enough for overall infrastructure upkeep and other revenues are not making up the slack. New revenues need to be combined with better planning to reduce road congestion and promote more efficient public transit.
NYC: Bill to Revoke Restaurant Licenses of Wage Law Violators Introduced
If a restaurant employer is willing to break the law by violating the minimum wage or other laws, can you trust them not to endanger customer health as well? In fact, a study by the Restaurant Opportunities Center in New York [10] (ROC-NY), Dining Out, Dining Healthy [11], unsurprisingly found that employers violating labor laws were also more likely to cut corners in ways that harmed the health of customers, from serving spoiled food to handling food improperly.
Responding to these concerns, New York City Council Members Eric Gioia and Rosie Mendez yesterday introduced a bill [12] to require the City to review employment law violations when considering whether to renew a restaurant operating license. The bill will require:
Full disclosure by restaurants of any cases where they have been found to have violated minimum wage, overtime, discrimination or other employment laws.
Allowing members of the public to request public hearings on whether a restaurant is fit to renew its license.
Giving the Department of Health & Mental Hygiene the authority to suspend or revoke the license of businesses that have failed to abide by the law.
The restaurant industry employs 165,000 people in New York City, one of the city's largest employers, yet the industry has some of the lowest wages and most pervasive violations of wage and discrimination laws in the city-- a common problem in the industry across the country.
The goal of the new bill, which is supported by ROC-NY and the Brennan Center Strategic Fund [13], is to begin to change this reality by making the City take employment violations as seriously as other violations in deciding whether to renew restaurant licenses.
States Revolt Against National ID
Montana [14] and Washington [15] state are leading [16]the revolt against the 2005 Federal Real ID Act [17]. Under the Act, states have until May 2008 to issue new driver's licenses adhering to uniform safety features set by the feds, and requires states to verify the identity of all driver's license applicants. States that do not adhere to the Federal standards will not be able to use their licenses to board planes or enter federal buildings. As Montana Governor Brian Schweitzer so aptly put it, "no, nope, no way, hell no."
Anti-Real ID measures have passed [18] at least one chamber in 14 states and introduced in 11 others. Oklahoma [19] is the next state on the verge of opposing the implementation of Real ID.
States have opposed the measure because of the high cost of implementing the Act and the federal intrusion [20] into what has traditionally been a state responsibility. The Act would require driver's license bureaus to feed information into databases to verify applicants identity, leading to concerns about invasion of privacy and identity theft. Not to mention everyone with a driver's license or state ID will have to renew [21] it in person, adding to already lengthy DMV lines. And while the cost to the states of the new IDs was initially estimated at $14 billion, it is now expected to be at least double [18] that amount. To date, Congress has appropriated [22]$40 million, leaving over 99 percent of the funding to come from the states.
In another shining example of administration transparency, the Act passed through Congress without a floor debate and was attached to a bill funding the war in Iraq and international aid after the Asian Tsunami.
Research Roundup
Research Roundup
In honor of Mothers Day, Save the Children has released a report on the State of the World's Mothers 2007 [23], which highlights the horrors of over 10.1 million children dying worldwide before age 5, but also finds that the United States ranks only 26th in the world in taking care of mothers' and children's health and other needs, given that the U.S. has the second highest infant mortality rate in the developed world and its failure to provide for paid maternity leave and other care for families.
In a memo analyzing public opinion, Al Quinlan, Stan Greenberg, and the Center for American Progress's John Podesta highlight key messaging [24] needed to promote energy independence and cutting global warming, including inspirational vision, energy self-sufficiency for America, and a strong vision of how alternative energy can restore American leadership in the world.
The Urban Institute released a report [25] on how well-designed tax policy can help promote a better energy policy, by encouraging consumers themselves to choose more energy-efficient vehicles and appliances, while promoting investments in new technologies.
Despite projections by "free trade" supporters, China's entry into the World Trade Organization has not cut the U.S. trade deficit with China-- and the result, according to the Economic Policy Institute [26], is the displacement of over 2 million U.S. jobs since 1997. The report highlights each state's jobs lost from trade with China.
Highlighting wasteful corporate subsidies given out through New York's Industrial Development Agencies, a report [27] by New York's Jobs With Justice argues that hundreds of millions in IDA tax breaks undermine local government investments in education, infrastructure that would be better uses of public money to create a strong business climate. The report proposes broad reforms to strengthen the job creation potential of these economic development tools.
Latino immigrant children are ill-served by foster care systems, as the Urban Institute highlights in three new policy briefs [28], which detail that immigrant children are less likely to be placed with relatives than U.S.-born children and have less federal funds available to help them.
U.S. Infrastructure: An Economic Disaster Waiting to Happen
Urban Land Institute, Infrastructure 2007: A Global Perspective [8]
NASHTU, Highway Robbery II: The Many Problems With Outsourcing Design, Engineering, Inspection & Supervision of Federally-Funded Transportation Projects [9]
NYC: Bill to Revoke Restaurant Licenses of Wage Law Violators Introduced
Bill text, Responsible Restaurant Act [12]
Fact Sheet: Responsible Restaurant Act [29]
Brennan Center, New Responsible Restaurant Act Will Help Food Industry Abide By The Law [13]
ROC-NY, Dining Out Dining Healthy [11]
ROC-NY, Behind the Kitchen Door: Pervasive Inequality in New York City's Thriving Restaurant Industry [30]
States Revolt Against National ID
Montana HB 287, Deny Implementation of Real ID Act [14]
Washington State, SJM 8005 [15],
Oklahoma, SB 464 [19]
Real ID: Questions & Answers [22]
Stateline.org, Two States Lead Revolt Against Real ID [16]
Eye on the Right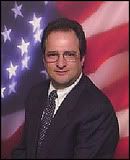 It's a given that political appointees will be, well, political. But as SquareState [31] reminds us, non-appointee hiring practices of elected officials should be non-partisan, all the more so for the Elections Division. In Colorado, the problem started when Secretary of State Mike Coffman hired his former campaign consultant Dan Kopelman (pictured) for an $85,000 a year position in... the Elections Division. But apparently the salary wasn't enough for Kopelman, who ran a personal business selling... targeted voter files. So basically, the Sec. of State let politics into a his bureaucracy and was supposedly "shocked" [32] when his bureaucrats acted politically.

Masthead
The Stateside Dispatch is written and edited by:

Nathan Newman, Policy Director
Mijin Cha, Policy Specialist
Adam Thompson, Policy Specialist
John Bacino, Communications Associate
Suggestions
Please shoot me an email at jbacino@progressivestates.org [39] if you have feedback, tips, suggestions, criticisms, or nominations for any of our sidebar features.
John Bacino
Editor, Stateside Dispatch
Progressive
States
Network
Contact Us [40]
Tell a Friend About the Dispatch! [41]
Copyright 2007 Progressive States Network.
To unsubscribe: Click here [46]
Progressive States Network
101 Avenue of the Americas
3rd Floor
New York, NY 10013