[2]


In Association with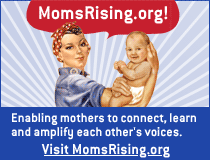 [3]
Maternity/Paternity Leave
(Paid Family Leave)
State Legislative Models
Below you'll find a menu of model state legislation (most of which has passed in at least one state) as well as guidelines for state legislators and advocates relating to paid and strengthened unpaid family leave programs that can be tailored for use in their own states.
Here are a few key legislative models enacted or proposed in various states (for more details, read below):
THE BIG PICTURE OF FAMILY LEAVE: The 1993 federal Family and Medical Leave Act (FMLA) [17] was a significant advance for working families, since it gave a large number of employees the right to take up 12 weeks off to care for a new child or take care of a sick family member. Unfortunately, the law has some severe limitations:
it applies only to workplaces of 50 or more employees
it has a number of restrictions on its use, and,
most importantly, provides only for unpaid leave, meaning many families can not afford the lost income in taking advantage of the program.
In response, states have been taking action to expand the usefulness of family leave in the states (see also this guide [18] to state progress on family leave from the National Partnership for Women and Working Families).
These actions fall into two broad categories discussed in more detail below:
- - - - - - - - - - - - -
PAID FAMILY LEAVE BACKGROUND: While unpaid leave has helped millions of families, there is little question that many employees have been unable to take time to care for a new child or an ill loved one because they cannot afford the lost pay.
In 2002, California pioneered the first paid family leave law [4] in the country. The law built on an existing State Temporary Disability Insurance [19] (TDI) program, which already insured employees against lost wages due to disability, including pregnancy. The new law then also insured that parents could take six weeks of paid leave "" at 55% of their regular pay -- after adopting a child or caring for a sick family member. The insurance was designed to cost workers less than $3 per month. Many states have introduced paid leave bills that build on the California initiative with longer leave and more robust benefits.
A few states have created At-Home Infant Care (IHIC) [20] policies to provide eligible, lower-income working parents with additional income to help them defray the cost of staying home with their newborns or newly adopted children. Currently, Minnesota and New Mexico have active AHIC programs. Montana enacted a statute creating an AHIC program, but the legislature has not yet provided funding.
Guidelines and Models for Paid Leave
Proposals in

New Jersey

[6]

and

New York

[7]

, which both have temporary disability insurance programs, model their program on the California statute. For example, a New Jersey bill,

A1518

[6]

, sponsored by

State Assemblywoman Sheila Oliver

[21]

, would provide for 12 weeks of family leave at two-thirds of weekly pay (up to a maximum of $475 per week).

Other proposals in states without TDI programs would create a separate fee, usually a couple of cents per hour, to fund their paid leave programs.
Advocates in Washington State

[22]

support HB1173

[8]

/SB5069

[23]

, which would provide 5 weeks of benefits ($250 per week).
Massachusetts leaders have proposed S2626

[5]

, which would provide 12 weeks of paid leave at full salary (maximum of $750 per week) based on premiums collected from employees.

For At-Home Infant Care policies, see At-Home Infant Care: A Side-by-Side Comparison of Federal and State Initiatives [20] and Minnesota Statute 119B.035 [9].
Talking Points on Paid Leave
Multiple studies

[24]

have shown the benefits to business from making the workplace more family friendly. What family-friendly workplace legislation does is create a level playing field, where all employers have the same obligations to provide a minimum standard of benefits and therefore aren't placed at a competitive disadvantage compared to their competitors.
By reducing turnover, all businesses collectively benefit from a more productive workforce. As testimony by business owners around the country in support of family leave policies shows, more and more of the business community gets this point.
Other Resources on Paid Leave
- - - - - - - - - - - - -
UNPAID LEAVE BACKGROUND: While paid family leave is seen as an ambitious program in some states, there are also important areas for states to strengthen unpaid leave rights for families as well. Eleven states [32]have enacted their own family leave statutes to expand employee rights in the private sector, and many more states have extended additional family leave rights to public employeees. These include:
Expanding the Workplaces Covered: States have extended family leave coverage to smaller employers, including Maine (15 or more employees), Minnesota (21 or more employees), Oregon (25 or more employees) and Vermont (10 employee or more for medical leave and 15 employees or more for parental leave). Connecticut, New Jersey, Wisconsin and the District of Columbia provide leave to more part-time workers than under federal law.
Extending Time for Leave: A number of states provide for more consecutive weeks of coverage than under federal law, including Connecticut and the District of Columbia which each provide for 16 weeks of family leave time (as long as additional leave is not needed the following year). Many more states provide additional family leave time for government employees, as much as six months of unpaid leave in states like Washington and Wisconsin.
Permitting Intermittent Leave: States such as California and Wisconsin give employees more flexibility to take parental leave in non-consecutive blocks of time over a year.
Guidelines and Models for Strengthening Unpaid Leave Laws
Talking Points on Strengthening Unpaid Leave Laws
More than 37 million employees in smaller firms

[35]

are excluded from the federal FMLA and millions more with part-time schedules are also excluded.
Parents have no legal right under the federal FMLA to take intermittent or part-time leave to care for a new child.
Expanding family leave rights to additional employees is both good for our states' families but also important for the long-term economic health of our states, since time with children in the first months is often critical for long-term child development.
Other Resources on Strengthening Unpaid Leave Laws
Go to MomsRising Maternity/Paternity Leave (Paid Family Leave) Page [38]
Sign up for the Stateside Dispatch [39] from the Progressive States Network to receive ongoing news and analysis of state policy proposals and successes.